I love sparkly polishes, and this one is one of my very favorites! It's actually Studio M Gel-ous, which is exactly the same as the Color Club. I am so loving Color Club and found a place that's not too far away that sells them!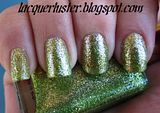 It's an apple green jelly base with pale gold glitter. The formula is great, very easy to work with, and dries pretty smooth, not gritty. Like most glitters, though, it was a pain to remove. I found that if I soaked a part of the cotton pad and gently pressed it against a nail for 20 seconds, it was much easier to remove.
Here's my attempt at some Ruffian manis (streaky b/c I did these quickly, as experiments):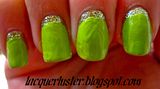 The green cream is Sally Hansen Xtreme Wear Green with Envy.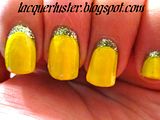 Yellow polish is Color Club Almost Famous.
Here's a great tutorial for how to do Ruffians: http://www.lacquerized.com/2010/05/how-to-ruffian.html