Hi everyone! My BF has been home the past ten days because he has pink eye. I haven't caught it yet, thank goodness, and he seems to be getting better. I bring it up b/c I feel a little silly taking pictures of my nails in front of him! The only thing he thought was funny was when I gripped my iPod Touch in the last picture so that I could show my thumb, haha.
Anyway, here's my most recent mani, Sally Hansen Complete Salon Manicure in Dive Deeper (from the LE Tracy Reese collection):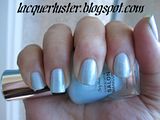 Dive Deeper is a pearly pale blue. Application was okay; the wide, curved brush makes it easy. I like it more than the OPI Pro Wide one b/c the curved shape makes application more accurate. Dry time took a while, but my biggest complaint is that this color is so sheer! I wore it alone, without base or top coat, because I wanted to test its claims to being a "complete salon manicure." It actually held up pretty well, but it took five coats to get the coverage you see in the picture with still slightly visible nail line. I do like the color but next time I'm going to start with a coat of a light blue cream polish to make sure there's enough coverage.
Here it is with a coat of Essie Carnival (a new purchase!):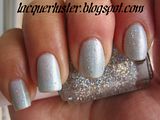 It looks a bit more washed out in this picture, the first one shows the color more accurately. Carnival is a clear topcoat with holo glitter. Love it! From pictures it looks pretty similar to China Glaze Fairy Dust, but I'm not positive that they are complete dupes since I don't have CG to compare.
I love Carnival so I decided to do a comparison of top coats to see how it compares to the others I have.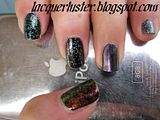 Thumb to pinky: Sally Hansen CSM Hidden Treasure, Tony & Tina Lucid Dreams, Essie Carnival, OPI Pearl of Wisdom, China Glaze Kaleidoscope Him Out (all one coat over American Apparel Hassid, no top coat).
Hidden Treasure
is very interesting! It's an opalescent flakey with clear base. As you can see in the picture, it mainly shines orange with some yellow and green duochrome. Application was fine but it took quite a while to dry. Dense enough to wear alone with good coverage in a couple of coats. I know this has been pretty HTF lately, but Nubar 2010 is pretty close and readily available on ebay for decent prices.
Lucid Dreams
is probably hard to find, but I included it b/c I'm sure there are many dupes out there. This one is an opalescent glitter in a clear base, mostly shines aqua with some orange. Dried quickly, dense enough to wear alone.
Carnival
, as I stated above, is a holo glitter in a clear base. Quick drying time, and the finish is almost satiny. The glitter isn't very densely packed, so I would only wear it alone if I was going for a very subtle glitter effect. I'd like to try this over a French, maybe.
Pearl of Wisdom
looks like a sheer white pearl in the bottle but shows up over black as a duochrome! I'm sure this would work over other colors as well. Very cool effect. Good drying time. Could be worn alone but it would be very sheer, obviously.
Kaleidoscope Him Out
isn't really a top coat, but I thought I'd try it over black just to see. I think it does look kind of cool over black, but I can't wait to try it alone. It's a light blue jelly base w/ holo powder. I'm sure this would be opaque on the nail in two or three coats, and would also look more blue.
What top coats do you like to use?